I contacted Alison Allott when the back pain and sciatica symptoms I suffered for several years became unbearable. Almost immediately I felt the huge benefit of her treatment and skill. My pain relief has been maintained for 7 months. I still have treatments (but less frequently now) and intend to continue as the benefits to me are invaluable. Alison has an incredible ability to "zone" in on just the right spot - and bring relief.
Whilst I do appreciate that GPs are busy - this caring and extremely knowledgeable lady instilled more confidence on my first visit to her than from 8 years of telling my GP I had back pain.
Alison's initial diagnosis (after 45 minutes) was confirmed when my GP finally referred me for an X-Ray... spondylolisthesis , osteoarthritis, degenerative discs... suffice to say I have absolute confidence and respect for her and have no hesitation in recommending her services.
Whilst I don't expect a "miracle cure" I'm happy to be mobile, relatively pain-free and walking 2-3 miles most days!
My only regret is not having consulted her sooner.
- Mrs P.R. (age 56)
Patient testimonials from across Shropshire
I am 22 years old. Before I started seeing Alison I had constant stiffness in my back due to a growing disorder and was unable to take part in sports which were a big part of my life. After 1 month I was feeling good and now 2 years on I have barely any stiffness in my back and am fully fit to take part in all my sporting activities.
- Mr A.W. (age 22)
I have been a patient of Alison Allott for six years.
Initially, my consultation was following a road traffic accident, which had resulted in an injury to my shoulder and as a consequence referral from my G.P., who stated that Alison's knowledge of anatomy was greater than his.
Alison is a lady who demonstrates a very caring approach to her patients and instils confidence when treatment takes place. As a result of my confidence in her, both my wife and son have received treatment from her and both benefited from it.
Furthermore as a result of her treatment I have been able to return to my hobby of archery in spite of the fact that a registered consultant Physiotherapist suggested I would have to put up with the problem in my shoulder and refrain from it.
From my experience I cannot speak highly enough of her professionalism.
- Mr K.L. (age 68)
Twenty five years ago, I was injured in two car accidents within months of each other, leaving me with permanent damage to my neck and considerable ongoing pain.
I became a patient of Alison Allott after several years of this disability and pain, and have been helped enormously by her treatment which has enabled me to lead a very active life, including maintaining a four acre garden, well into my seventies.
Her treatment is thoughtful, extremely knowledgeable and very thorough, and her kindly and gentle concern adds to the beneficial effect.
- Mrs P.F. (age 77)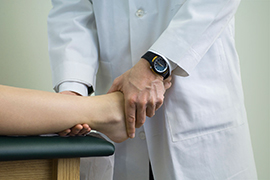 Do you suffer from sciatica? Do you live in Shropshire? Call Alison Allott to discuss whether osteopathy could help you:
01743 243 273